Can I climb? Can my kids climb? Can my grandpa climb?
Yes Everyone Can Climb!
Everyone can be a ROCKSTAR! There's no age limit to be a rock climber. However, if you have conditions that might prevent you from physical activities, please check with your doctor.
Just Walk In!
You do not need prior rock climbing experience to start climbing in Project Rock. Just walk in during our opening hours!
You'll need to prepare....
Comfortable clothes, socks and your sense of adventure! It'll be nice if you fill up the waiver here ahead of time to save time for registration.
Drop By Project Rock!
Visit us at Gurney Plaza or IKEA Batu Kawan. We have friendly crews who can guide you and help you at any time.
There are gears like climbing harnesses and shoes for rent. Put on your favourite sports attire and a pair of socks. Our staff will give you an orientation and safety briefing to help you get started.
Climb On!
You are free to explore the facility and start climbing! For children below 12, we'll need the parents to be present to supervise them.
Climbing at Project Rock
What is a route?
In bouldering, a "route" refers to a specific set of holds and movements that a climber will follow to reach the top of a boulder.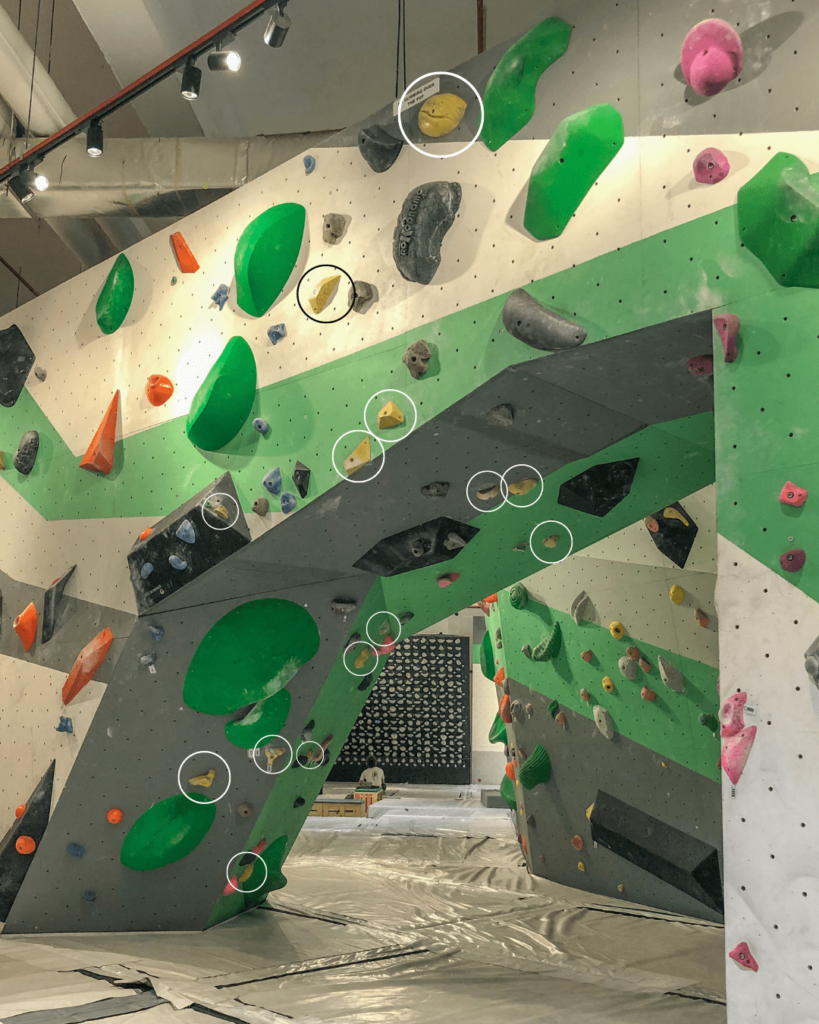 Tags
Tags are small labels to indicate the difficulty of a specific route, and also tells you where to start. If two tags are together on one hold, you have to start with both hands on that hold. If two tags are separated, then start with one hand on each hold.
Grading Chart
Each routes are graded to indicate their level of difficulty. The fuller the bar, the more difficult the level.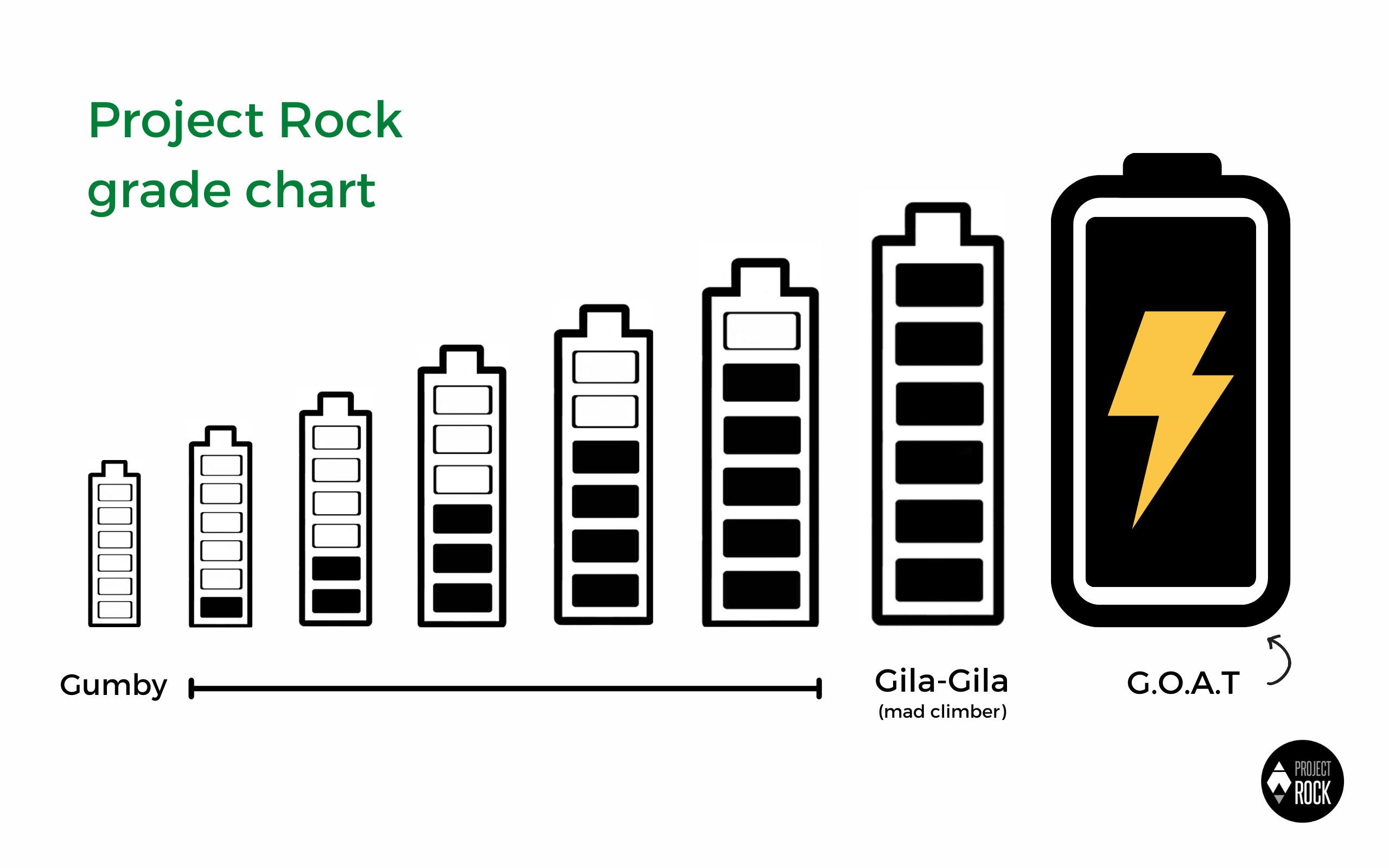 Climbing Etiquettes 
First come, first served
Climbers are allowed to climb a certain route on a first-come, first-served basis, rather than reserving or scheduling specific times to climb the route. This allows for fair and equitable access to the routes for all climbers.
Don't hog the wall
Avoid staying on a specific route or boulder for an extended period of time, preventing other climbers from using that route. It is important to be aware of other climbers and to share the space fairly.
Brush your holds
Brushing your holds improve the grip and texture of the holds, which can make climbing more enjoyable and less frustrating. We have a designated hold brush or a "brush station" where climbers can borrow or purchase a brush to clean the holds.
Keep your climbing shoes and the handholds clean
Climbing shoes come in close contact with the climbing wall and the surface of the holds, which can be dirty and unsanitary. When using the toilet, it's important to take off your climbing shoes and wear a clean pair of shoes or go barefoot.
Get a Beginner's Bundle!
A Beginner's Bundle is all you need to begin your climbing journey with us!
Included in your Beginner's Bundle are:
• 2-weeks unlimited entry at one-entry price (gear included!)!
• A 60-minutes workshop to introduce you to the basics of climbing. All rental gear included during class.
You can get everything above at only RM60!
Let's defy gravity and discover a new community in 2023!
Limited once per person